You know it's Ramadhan o'clock when your usual daydreams of going jet-skiing with your favourite K-Pop idol from BTS have been replaced with recurring mental images of Ramadhan-themed menu – ayam golek, tepung pelita, nasi tomato, roti john (We don't know who John is either, but his roti sure hits the spot), and you don't really mind it.
It's the reign of the local street food, and we're all up for it! Here's a few hotspots to look out for on your next Ramadhan bazaar tour:
Bazaar Ramadhan Kampung Baru
Dive into the depths of Kampung Baru and you'll find yourself torn with multiple options in the realm of classic, mouth-watering Malay dishes. Just a 15-minute drive from Arcoris Mont' Kiara and a 20-minuter from Kiara Bay, you can get your ayam kunyit fix at Mat Rock Special Ayam Goreng Kunyit and explore their turmeric-coated seafood range – then detour to Ikan Bakar Abang Misai (We kid you not, the chef LITERALLY has a moustache!) for grilled fish.
While you're at it, keep your eyes peeled for the local favourite keria gula melaka from Keria Hang Jebat – not just your average joe of a doughnut, this one's caramelised in rich, brown sugar that's sure to leave you wanting more.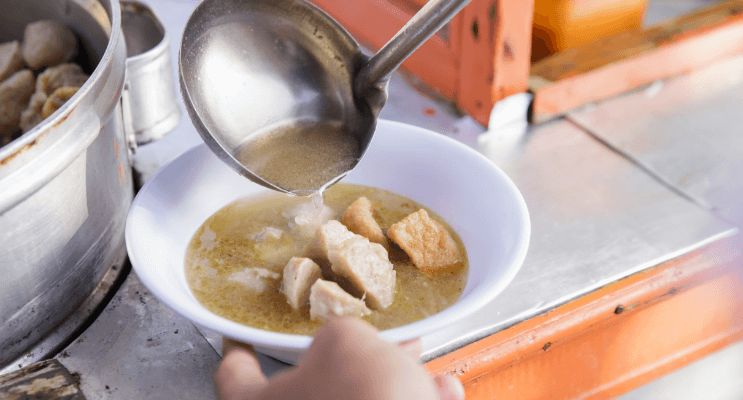 Bazaar Ramadan Putrajaya
This Ramadhan pasar is a lively one, with tons of tasty, rare finds! One of the crowd-pullers here is the Mee Tonggek stall – it offers fried noodles with jumbo prawns XL-sized squids the size of your face!
Another main star here is the bakso noodles from King Bakso Solo. These aren't your typical Indonesian meatballs – its signature dish Bakso Beranak, consisting of bite-sized meatballs wrapped within a colossal meatball (We're talking about Meat-ception here), is larger than a tennis ball!
Other honourable mentions that can be found at this festive-themed pasar malam include nasi kerabu, laksam, and lamb fried rice – oh so sedap!
Publika's "Finally Beraya" Bazaar
You'll be spoiled for choice at this indoor bazaar at Publika as it features an exciting line-up of pop-up stalls from 8th April – 1st May 2022, ranging from yummy treats to baju raya as well as arts and crafts. Get transported to the land of Istanbul as Ayanka Delights greets your taste palate with a salam and a vibrant array of Turkish delights, perfect for sweet tooths alike.
Green tea enthusiasts can visit IJO for their signature fan-favourite Matcha Latte – and if you're feeling adventurous, you can experiment with their unique coffee range with a funky twist – including their viral Dirty Matcha, a special blend of coffee and green tea, in collaboration with hitamanés.
While you're at it, check out Publika's Ramadhan Food Bazaar at The Square outdoors from 15th April – 1st May 2022 for more food choices!
Bazaar Ramadan TTDI
A top pick among the locals, this bazaar at TTDI is all the rage. And of course, a Ramadhan without murtabak is like Fadza Anuar without Vivy Yusof – incomplete. Raja Murtabak is one of the main stars at the arena, living up to its name by making delicious murtabak paired with their special homemade gravy and a sprinkle of chicken or beef.
When you're food stall-diving, swing by Nasi Ayam Tempayan Ustaz – paired with fragrant chicken rice, their chicken is cooked and steamed in a crock or tempayan, bringing out the aromatic flavours of the chicken.
You can also find underrated local treats hidden in the corners of the TTDI bazaar including pastel-coloured, unicorn-esque apam nasi and melt-in-your-mouth putu bambu.

Bazaar Ramadan Stadium Shah Alam
Located about 10 minutes away from Radia, Bukit Jelutong by car, this Ramadhan marketplace houses the famous local celebrity Chef Ammar's Lamb Shank – serving flavoursome Arabic mandy rice paired with their specially cooked saffron-infused egg, together with their fall-off-the-bone tender lamb.
Another popular choice among the local residence is the grilled clams or kerang bakar from Ainol Kerang Bakar 223. What's special about this stall is that they sell oysters as well – big, juicy ones too! If you're feeling bougie but don't really plan on blowing a fortune, this is your go-to option.
Similar to its cousin, Nasi Kandar, Nasi Kalut Jitra Mai is also a big hit amongst the crowd. Indulge yourself in a plateful of yellow rice paired with fried chicken, salted egg drenched in thick gravy, and wash it all down with cendol stylised in a tall glass jug from Aneka Cendol.
Happy hunting and Salam Ramadhan!